the giving project
Our communities have consistently used their brilliance and creativity to resource social justice movements, no matter how difficult the circumstances. The Giving Project is built upon this belief that community organizing and fundraising are interdependent strategies that build grassroots power to help us achieve political, economic, and social transformation.
Each year the Giving Project brings together a small group of Detroiters to learn skills in fundraising and grantmaking, and move a significant amount of money to local grassroots organizing efforts. The Giving Project cohort attempts to embody transformative systems change by building principled solidarity across race and class, equitably raising money, and redistributing funds back into the community through democratic decision-making processes.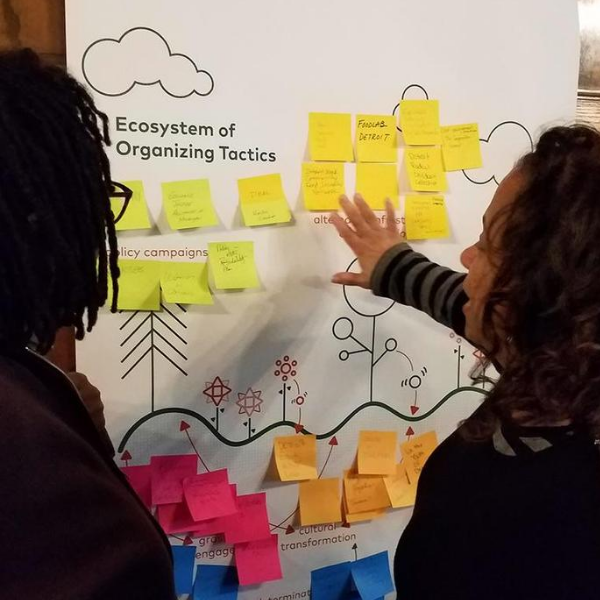 cohort members
The 2021 Giving Project will power our Movement Building Fund, providing two-year grants of general operating support to established social justice organizations working for transformative change. Cohort members are activated around various social justice issues and use creative approaches to nurture strong communities throughout the city. Most of all, they love Detroit. Meet the powerhouse group of Detroiters who are strengthening our local grassroots fundraising arm for social justice.
Over the course of six months, you will join a multiracial, cross-class group of 15-20 individuals to build community, broaden your collective understanding of racial equity and strategic roles in systems change; develop fundraising and grantmaking skills; and move a significant amount of money to groups organizing for racial, social, and economic justice in Detroit, Hamtramck and Highland Park. It is a rigorous process that requires a significant commitment of your time, talent and resources.
All Giving Projects follow roughly the same process:
Community building

, including personal storytelling and setting personal & collective goals.

Political discussions

and exercises

about racism, classism, and Black liberation to help us build principled solidarity for our strategic movement work.

Raising money,

including

training that is focused on grassroots fundraising skills and learning how to make an ask.

Moving money,

including training about grantmaking, social justice philanthropy, and TPF's grantmaking philosophy and decision-making processes.

Ongoing fundraising with support

from TPF staff and other Giving Project members.

Reading and scoring

grant applications.

Screening meeting

to decide, as a group, which applicants will get site visits.

Site visits

to meet with finalist organizations and learn about their work directly from them.

Final decision

meeting to review site visit reports and decide together which organizations will receive grants.

Celebrate our successes and evaluate the process so the next giving project will be even better.
Individuals who live or work in Detroit, Hamtramck, or Highland Park are eligible to participate, particularly those who are committed to building movements for racial, social, and economic justice. No prior fundraising experience is needed. You do not have to donate any particular amount of money, whatever is meaningful to you counts.
For our inaugural Giving Project, we are seeking individuals who are energized to co-create a program unique to our local needs and who are willing to provide constructive feedback. The Giving Project might be the right space for you if you…
Are ready to fully commit to the entire Giving Project process and have the space to take on a challenging and transformative experience between January – June 2021.

Want to learn how to effectively ask people for money, even if it scares you.

Believe there are people and organizations in Detroit building sophisticated and savvy movements to confront systems of oppression, and want to see their impact grow.

See value in fostering multiracial, cross-class community in one of the most segregated cities in America.

Have already done some reflection on the harms of racialized capitalism, and are willing to have conversations about these harms in ways that direct us towards a vision bigger than ourselves.
Black people, Indigenous people, and people of color; People with disabilities; Trans, gender non-conforming, and LBGQ people are especially encouraged to apply.
Most people do. TPF works with each cohort to explore the reasons why, and to learn how to ask for money and feel good about it. Traditional philanthropy has historically celebrated the contributions and centered the priorities of extremely wealthy people. And yet our movements for racial and economic justice have seldom been resourced through this type of giving. Throughout the training participants will begin to see how, similar to community organizing, donor organizing is deeply relational and critical to building powerful, interdependent movements for social change.
TPF only offers Giving Projects to individuals who live or work in Detroit, Hamtramck, or Highland Park. However, the Giving Project is a model for donor organizing and strategic movement-building used by social justice funds across the country. The following funds offer Giving Projects in their respective cities:
Wherever you are, join the wave of people working to democratize decision-making over funds, and strengthen a grassroots fundraising arm for social justice.
Yes. TPF is committed to building local capacity for social justice organizing in ways that sustains our collective movement work over time. That means learning how to flex our relationship-building skills to raise money and win concrete change on the issues that impact us. Democratic processes are central to our work, therefore we have a simple conflict-of-interest policy to ensure that anyone closely involved with an applicant organization does not participate in decision-making for their own organization.
If you are generally interested in applying for a TPF grant, please visit our community grants page.
Tell others about TPF's Giving Project. We need your help to get the word out.

Be willing to

be

fundraised

. We need a list of supporters willing to have one-to-one conversations with our Giving Project participants who would be "easy asks."

Donate.

In order to make Giving Projects work, we need financial support from people who love the idea and the work but can't be involved themselves.

Join the TPF network to learn about upcoming movement-building opportunities.
Signup for our newsletter
Stay up to date on TPF's programs, events, and grant opportunities by joining our email list!